Locksmith Call Out Service!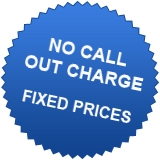 Our mobile locksmith call out service covers the maintenance and replacement of domestic and commercial locks and covers Ellesmere Port, Chester, Cheshire and the Wirral, including:
We have a fully fitted mobile workshop for carrying out work at your location whether it be auto, domestic or a commercial service you require.
UPVC Door Lock Service, Repair & Replacement
If you start experiencing any problems with the operation of your door, it is advised these problems be rectified "sooner rather than later", to avoid the eventual failure of your locking mechanism.
Your door can then be serviced and adjusted by our Locksmith Call Out Service to ensure smooth operation when closing and locking. This may mean that additional parts may not be required, keeping costs to a minimum.
Typical faults that can be remedied as above can be:
The door catches on the frame when opening or closing.
Stiff operation of the door handle when locking or un-locking.
Please note that persistent faults that are not rectified soonest, can with time become a failed mechansim. This can leave you with a door that has failed open and can't be locked, or a door that has failed closed that can't be opened.
Euro Cylinders
All our standard range of cylinders (1*British Standard) come in many different sizes and it is very important that a correct sized cylinder is fitted. Incorrect sized cylinders are vulnerable to burglar attack and access can be gained within seconds. Note: your lock should not protrude from the face plate of your handle set on the outside.
Our Locksmith Call Out Service carry all sizes of locks to eliminate this hazard, and can replace if your keys have been lost, or you require a lock change.
High Security Cylinder Locks
We can supply high security 3* British Standard anti-snap protected cylinders, if you have a requirement please let us know.